Get the Top HVAC Services In
Jackson MS: Your Comfort Matters Most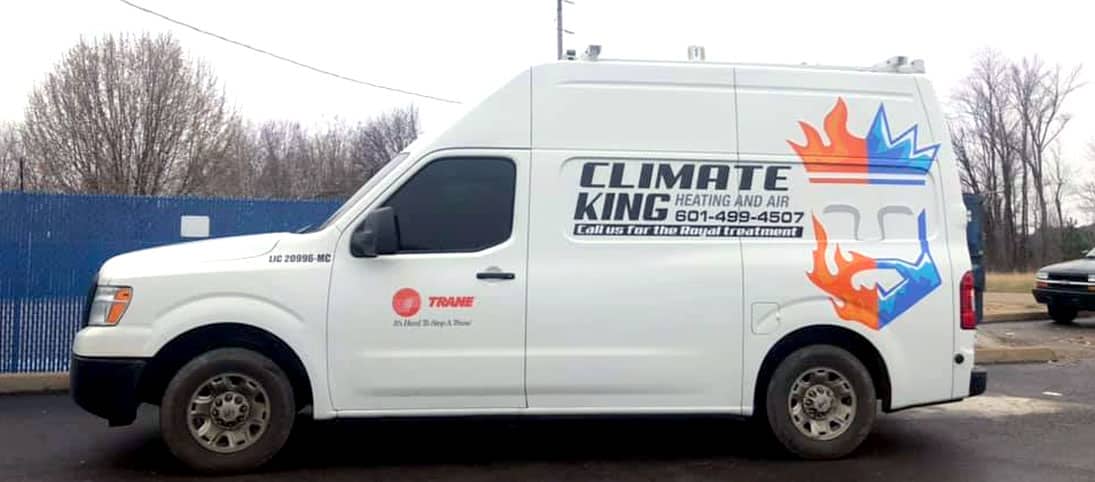 As the most trusted HVAC company in Jackson, we're here for our customers 24/7, satisfaction guaranteed.
When HVAC problems hit, it's time to call the pros. You don't want to let small AC and heating problems turn into bigger issues. No matter what service you need, our HVAC repair services in Jackson are fast, professional, and guaranteed to work.
At Climate King, we offer same-day repair, replacement, and HVAC installation services. We take care of all residential and commercial clients in the area with affordable rates and professional technicians that make it effortless to get AC and heating repairs exactly when you need them.
Emergency HVAC Service
Has your HVAC system started making noise or blowing lukewarm air? Some HVAC systems have compressor issues or dirty coils that can cause problems, especially in an older system. No matter what time of day, Climate King offers 24/7 emergency HVAC maintenance and repairs.
With live dispatchers and prompt service, you never have to worry about waiting for your air to come back on. We'll be there in a jiffy. Our service trucks are stocked with hundreds of parts for all kinds of brands, and we can replace your system typically within the same day if we can't fix your system on the spot.
Why Choose Our HVAC Contractors and Services in Jackson?
For over 20 years, we've offered expert, courteous HVAC service to Jackson and surrounding areas, including Memphis. Not only do we offer affordable financing and maintenance plans, but we also service any HVAC brand.
You can count on our technicians to be insured, licensed, and professionally trained with years of experience. Whether your system has a bad compressor or you need duct cleaning, we'll diagnose the problem and provide you with a professional quote before any repairs are made.
Same Day Service for Jackson HVAC Repairs
If your air conditioning goes out in the summer, you can't wait several days for someone to fix the problem. That's why you should call Climate King. We're there for you whether your AC is out or your furnace breaks down when it's 20 degrees outside. 
All you need is our emergency service. Our technicians are a phone call away and quickly respond to all service needs.
Our HVAC systems in Jackson MS services include:
 Residential HVAC repair and installation
 Commercial HVAC repair and installation
 Air Conditioning Services
 Heat Pump & Installations
 Furnace Maintenance
 Indoor Air Quality Testing
 Smart Thermostat Installations
 Water Heater Installations
 Preventive Maintenance Service
Whether it's your home, office, or an entire building, Climate King has the professional tools and parts to ensure that your air is exactly the right temperature. You can schedule an estimate at any time and get ongoing maintenance services to ensure that your system always works through any season.
Residential HVAC
Has your home become stuffy due to poor air quality? Maybe your air isn't blowing as cool as it used to. If your system is breaking down constantly, you could need a new compressor or a new system installation to improve your indoor air drastically.
Our residential HVAC services include:
 HVAC replacement
 HVAC installation
 Gas furnace repairs and installation
 Heat pump installation
 Central AC system repairs and installations
 Packaged AC systems
 PTAC systems
 Mini-splits systems
 Ongoing maintenance 
We also service several brands, including American Standard, Coleman, Ducane, Dunkirk, Payne, Mitsubishi, Honeywell, Frigidaire, York, Trane, Rheem, and more.
Commercial HVAC
Your company deserves to have optimal temperatures inside, especially when you have staff and clients. Their comfort matters most.
Our commercial services include cooling and heating repairs, installation, commercial air quality analysis, duct cleaning, and much more.
Hire the Top HVAC Contractors in Jackson MS
Let us know how we can serve you by requesting a free quote or calling Climate King at 601-557-8319.